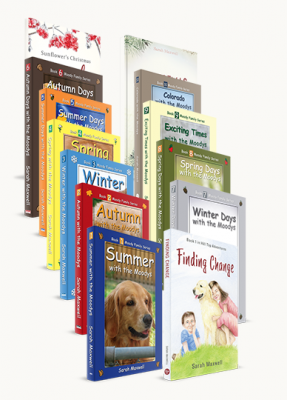 "I think it would be very educational (not to mention fascinating) for you to guide us blog readers through the process of writing a book. From the initial idea to the finished product, step-by-step." A blog reader
To read the previous five parts, see these links: Part 1, Part 2, Part 3, Part 4, and Part 5. To recap, we've looked at steps 1-10 of my book writing process.
Ideas
Outline
Character Profiles
Pre-Book Trial Run
First Draft
Editing
Illustrations
Test Families
Copyediting
Cover
Today, I want to bring this series to a close with the last step, what we can call Prepress.
After the manuscript is back from the copyeditor and the changes are gone through, we do more proofing on paper before the final layout in InDesign. Anna often does the layout if she's available. We also scan in the illustrations and make any adjustments needed in Photoshop.
During this time, I'm working on chapter titles, which do not come easily for me. Often test families will give their ideas, and family members will pitch in too. There is more proofreading in the final layout, checking to see what could have been missed, and making sure the format is how it should be. These times provide amazing opportunities to rest in the Lord, because it's intense with deadlines.
Once the book goes to press, we will receive two proofs. I get to take a deep breath when I upload the book and enjoy catching up on things I let go. During the press stage, one proof is usually a PDF to make sure the fonts and all the formatting went through properly to the printer's setup. After the books are printed, we'll receive another proof. It's a book that is almost finished just not bound. We make sure everything looks right, because once this proof is approved, well, it's final. I'll check to make sure every page is in order, no text is missing, the illustrations and cover look good, etc.
Now, we're onto the finish line, preparing the book description for the website, getting the product image set, and lining up all the details for the release. Once the book is announced and we have them in hand, life gets busy again as we ship books.
I'm so grateful for my loyal readers, and it's often I'll receive a letter, telling their favorite part of one of my books. The sequel to Finding Change is in final outline form, and I really hope to be writing the first draft soon. Due to some work responsibilities and family things, I had to take a mini-break but will be back to it shortly.
I hope you've enjoyed this series, and feel free to leave a question in the comment section if there's something more you'd like to hear about. I also hope this inspires you younger writers! There's a need for godly reading material that is edifying.
Love,
Sarah
"Serve the LORD with gladness:
come before his presence with singing" (Psalm 100:2).