Mom is our amazing organizer, and this year, she eyed the calendar and proposed a family picture at the end of September. Usually, we're in this scramble-battle with the weather and everyone's schedules come October or even November. But this time, we were early enough, it turned out perfect. Add to that we had friends visiting, and they could take the picture and attempt to get all the kids' attention. Mom even suggested a new photo location, and it worked out beautifully.
Afterward, Dad and Mom provided a hot dog roast, and we enjoyed fellowship and talking.
I'm going to give you a mix of pictures below, so you can sneak a peek into a Maxwell photo session!
A huge thank you to Dessiree and Chris for helping us out!
Love,
Sarah
Mary even had the line up sketched out so she knew where to place people,
but it still takes time to get everyone set.
Getting babies in their correct spots.
This is what happens when a few of us run to check
how the photos are looking. I guess you can call this their break.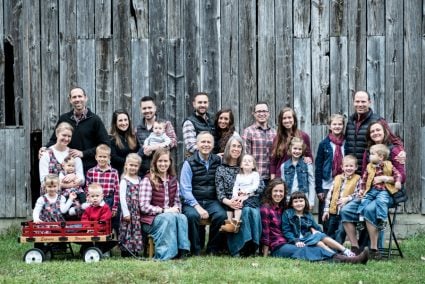 The Maxwell Family 2018
Casual times, and I began taking individual family pictures
the Nathan Maxwell Family
the Christopher Maxwell Family
the Joseph Maxwell Family
the John Maxwell Family
While individual families got photos, Dad and Mom
went to start the grill and set out dinner.
John and Tina in a race (can you spot Tina?)
Mary and Benji
Mom and Kyle
"Enter into his gates with thanksgiving,
and into his courts with praise:
be thankful unto him, and bless his name.
For the LORD is good; his mercy is everlasting;
and his truth endureth to all generations.."
Psalm 100:4-5