As homeschool moms, easy meals are one of your best friends. So if you have an Instant Pot, here's just the recipe! Special thanks to Melanie as I shadowed her for this.
Easy Instant Pot Tacos
2 lbs. ground beef
Taco seasoning
Water
The night before, pull the beef from the freezer and put in the refrigerator to thaw. Late morning, put the ground beef into the Instant Pot and turn it on the "brown" setting (for browning meat: depending on what model you have, yours may be different) and cook for about 20 minutes. Take off the lid, and crumble the meat using a meat chopper or something similar (our favorite is the Chopstir from Amazon: we've had ours for five years, and it's going strong:: the Amazon link is Titus2's Affiliate link, see our disclosure here). Add taco seasoning and then enough water to not quite cover the meat. Cook on low temp for the rest of the afternoon.
That's all there is to it!
With tacos, you can add so many tasty embellishments and even the shells are versatile (hard shell, soft shell, large or small or make it a taco salad!).
Enjoy!
Step #1: Put the meat into the Instant Pot. Then, choose the option for browning meat.
Step #2: Make your own taco seasoning or use purchased packets.
Step #3: When the meat is done, add the seasoning.
Step #4: Add water and stir.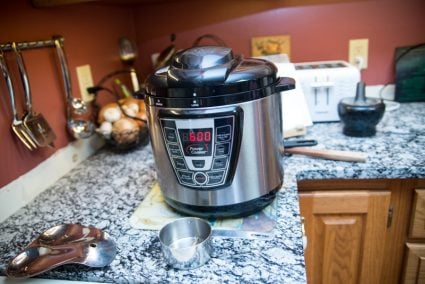 Step #5: Cook on low temp the rest of the afternoon.
Step #6: Add yummy embellishments and enjoy several!
"And he arose, and did eat and drink, and went in the strength of that
meat forty days and forty nights unto Horeb the mount of God."
1 Kings 19:8