Happy Monday! I hope your week has started off well. I love mochas, and the question has been posed on how I make mine. I tried to be quite detailed for your sake, but it's not hard at all. Feel free to leave me a question in the comments below if you need clarification on something.
At the end of the post, I'll include links where each of the items can be purchased, but you don't need the exact products to make something similar. For your reference, this makes about a 16 ounce mocha.
To begin with, add some hot water to your cup (several inches' worth). I'll explain why in a moment.
Next, heat water to 190 degrees. We have a handy Cuisinart that does that.
Grind coffee beans. Dump out the water in your cup, and add about 2 TB. chocolate syrup (more or less depending on how sweet you like your drink). The hot water warmed up your cup so the syrup will be more room temperature if it's been refrigerated. You can use my recipe here, or any kind of syrup. I'm a fan of peppermint mochas and often use some peppermint syrup in mine (so in that case, I would do about half chocolate and half peppermint for flavoring).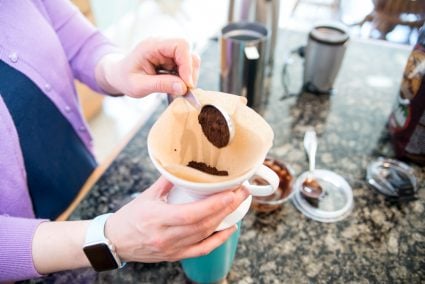 Now put your paper filter in the pour-over cup, and add 2 TB. freshly ground coffee.
To make the most of your time, pour milk into the frother. I love using whole milk, and I pour to the max line which is 8 ounces.
Next, pour hot water over the coffee, ensuring all the grounds get a nice amount of liquid. As the liquid drains into the cup, add more water. Lift up the white pour-over cup and check the liquid level. I aim for about half full. I let the water-coffee mixture not quite drain out of the pour-over and then set it in the sink. I read somewhere that if you let it all drain into your cup, it's kind of bitter.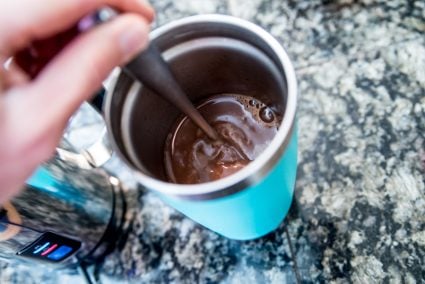 Stir the coffee and chocolate.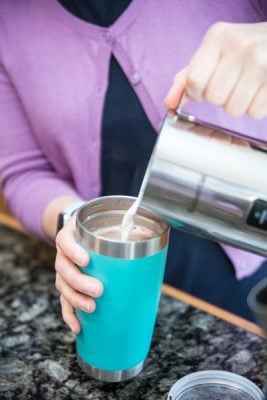 The frother should be done, so simply pour the frothed milk into the coffee-chocolate mixture. Top with whipped cream for an even sweeter experience.
Enjoy!
Equipment I use to make my pour over mocha. These are all Titus2 affiliate links, and the earnings bless our ministry. (See our Privacy Policy for more information.)
Again, the items I use are not necessary. You can figure out substitutes if you want, even using brewed coffee instead of the pour over method. The grinder and the frother would be the two biggest expenses. You could simply heat your milk if you prefer or use already ground coffee.
Love,
Sarah
"The Lord thy God in the midst of thee is mighty;
he will save, he will rejoice over thee with joy;
he will rest in his love, he will joy over thee with singing."
Zephaniah 3:17