I'm excited to share with you a post from Anna Marie, currently due with Baby #5 any day! As you busy moms know, when it comes time for dinner, it's best to have a plan in place. How does one juggle meals, little ones, and homeschooling short of hiring a maid?! 
---
My mother-in-law received a request for simple meals on a budget for busy homeschool days a while ago. When she asked me if I had any go-to recipes or ideas I could share, I said yes. Some of these ideas are gleaned from both of my moms; my mom taught me about freezing cooked meat ahead for quick meal prep, and Mom Maxwell has been an encouragement in the meal rotations and the idea of having a meal plan to reduce the thinking involved in both planning and answering children's questions. Those of you who have read Managers of Their Homes will probably recognize that theme. 🙂
Meal plan

—

This reduces the amount of thinking you have to do on any given day and gives you a ready answer to the question: "Mommy, what are we having for _____?"
Have a meal rotation

—

I should have more of these set because the days I have done it are so much simpler. For instance, tuna sandwiches for lunch on Tuesdays; popcorn, apples, and cottage cheese for lunch on Friday, homemade pizza for dinner on Saturday, etc. I tried Taco Tuesday dinner, but making tacos for everyone is pretty involved for our family so instead, we do a variation: taco soup or taco-seasoned beans with hamburger served over rice.
Cook and freeze meat ahead! This is a HUGE help for speedy meal prep! The main thing I do this with is chicken breast. We buy fresh chicken breasts in 40# cases. I boil a stock pot full of them and either shred them (I use my KitchenAid mixer with the beater bar to shred them; just have to be careful not to over mix) or chop it into small chunks. Then I spread it in thin layers on silicone mat-lined baking sheets, freeze, then dump it into gallon Ziploc bags. This is easy to dump some into soup, stir fry, cooked beans with various spice combinations to serve over rice, etc.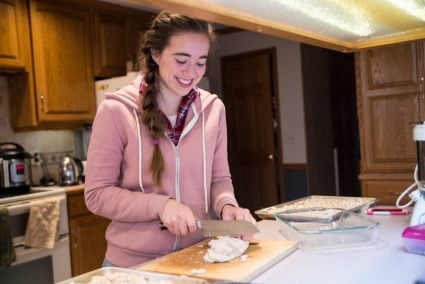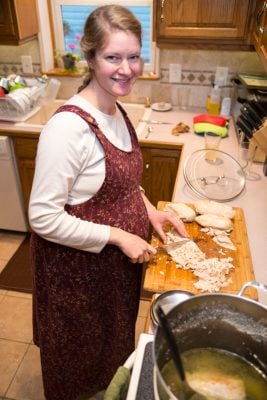 Marinated chicken breast pieces

—

This is another thing I like to do with the chicken breasts. I cut it into smaller serving-size pieces, place it in quart size freezer bags, and pour marinade over it before freezing. Our favorite has been an Asian Honey Sesame Marinade. It marinates wonderfully as it thaws in the fridge for a day or two, and is simple to grill and serve with some cooked rice and steamed broccoli for an easy summer dinner!
Soups are one of my greatest easy meal friends. I like to make a big batch, freeze a couple meals' worth, and have it available for at least the next day's lunch. This is a super easy lunch to put on the stove to slowly warm, then serve with sliced apples or baby carrots (our kiddos love baby carrots with a bit of peanut butter to dip them in) toast, crackers, tortilla chips, or leftover cornbread. A lot of soups I make without a recipe just by combining broth, some sort of meat, sometimes tomato juice/puree, and frozen mixed vegetables (we buy bags of organic mixed vegetables including cut up carrots, green beans, peas, and corn from Costco). Other favorites are chili, taco soup, and bean with bacon soup.
Another easy meal to make ahead is oven burritos. Anna helped me get a nice stash in the freezer a few days ago so we are ready for after the new baby arrives! We first cooked organic tortillas from Costco (they come uncooked in the refrigerator section) and assembled the rest of our ingredients: mashed/salted pinto beans, ground beef made into taco meat, and shredded cheddar cheese. As we make the burritos, we place them on cookie sheets lined with silicone mats and put them in the freezer. After they're frozen solid, I package them into gallon Ziploc bags.
These are some of my go-to easy meals, and I'd love to hear yours below!
Love,
Anna Marie
"That they may teach the young women to be
sober, to love their husbands, to love their children."
(Titus 2:4)