Some asked for a blog post about dealing with the challenges of aging, particularly considering my back pain.
My schedule helped me consistently exercise throughout my adult years, usually walking. I think that allowed me to remain active as I move through my 60's.
My back pain requires daily management, but I was quite encouraged by the PT I visited this summer who said my back-management routine has kept me from surgery, pain meds, and greater levels of pain.
I do 15 to 30 minutes of back exercises most days. I have tried lots and lots of back exercise routines—those a PT gave me, some I have found in books, and some from Internet DVD programs. I currently use the exercises I feel are the most beneficial, plus the ones from the most recent PT.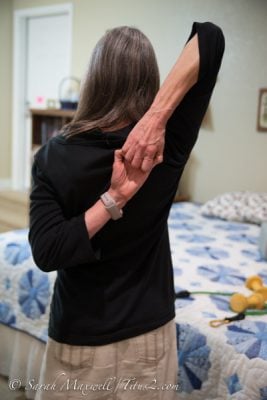 I don't know for sure, but I am guessing that those back exercises have helped me maintain mobility that allows me to get on the floor and play outside with my grandchildren.
I also use a device called a posture pump (Titus2's affiliate link to Amazon: see our Privacy Policy if you want). Because poor posture has played a role in my back pain, I am continually working on my posture. A chiropractor recommended this device because I had lost the curve in my neck. According to more recent x-rays, that curve has been nicely restored.
Finally, I have worked to maintain my weight, and I think being a normal weight allows me more stamina, energy, and mobility.
As far as mountain climbing, I simply love to do that so I push my physical limits for those hikes. Actually my back does better up a mountain with a backpack than it does leaned over a sink washing dishes for the same amount of time. Steve and I enjoy our conditioning walks together—talking and praying and getting in as good shape as possible in flat Kansas to hike Colorado mountains.
Trusting in Jesus,
Teri
"The hoary head is a crown of glory, if it be found
in the way of righteousness."
(Proverbs 16:31)