We just "downgraded" our washing machine and are very pleased with it. Let me share the story with you.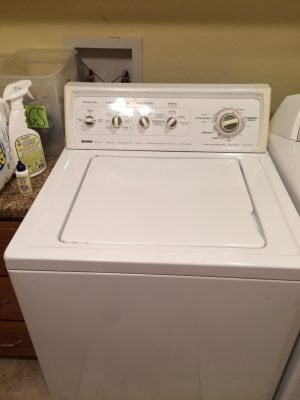 When the Maytag washer, which my parents had given to us as a baby gift at our first child's birth, had some major problems about 20 years later, we purchased the new HE front loader Maytag Neptune washing machine. It promised to conserve water, energy, use less detergent, and wash bigger loads of laundry. It never, however, performed well for us, and those machines were eventually in a class action lawsuit. After a few years we decided to cut our losses and try a Kenmore HE front loader. While that one didn't have the mold problems in the gasket that the Neptune did, it still didn't seem to clean as well as our old Maytag washer had cleaned.
When we built our house and chose a washer for it, we decided on an HE top loader. It was okay, but still wasn't cleaning like that original Maytag. As we watched clothes through the glass window on the lid, we weren't surprised they didn't seem to get very clean. There wasn't much motion in the clothes nor much water in the washer.
When recently the bearings went out in the HE top loader necessitating a $130 part plus an $80 tool and the time for Steve to fix it, we decided to do what Christopher and Anna Marie had done – go backwards to an old agitator style washing machine. With the money we would invest in repairing our HE top loader, we could buy an old machine from Craig's list and fix it, if it wasn't working.
Christopher had done research and come up with Kenmore Series 80 or 90-agitator style washing machine as being a solid machine, easy to work on, with parts still readily available. Within a few days, we had procured a Series 90 had it cleaned up, and begun using it for less than half of what the repair of the HE top loader would have been. We are happy with the agitator machine's performance, and it will be much less costly to repair when something goes wrong with it.
We have now decided to get an old Kenmore Series 90 dryer to have on hand for when our new dryer has a problem. We have already had to replace the control board on it. The Kenmore Series 90 dryer will be easier to repair and have parts that are less expensive.
Sometimes the old ways are better.
Thus saith the LORD, Stand ye in the ways, and see, and ask for the old paths, where is the good way, and walk therein, and ye shall find rest for your souls. But they said, We will not walk therein. Jeremiah 6:16