As my mom mentioned in a previous post, we have a menu of favorites for different holidays. This particular salad shows up on all the main holidays and is well-loved. I will caution. Because it's time-consuming to prepare, it's not for the busy mama with lots of little ones. I'll start with pictures and then conclude with the recipe.
Love,
Sarah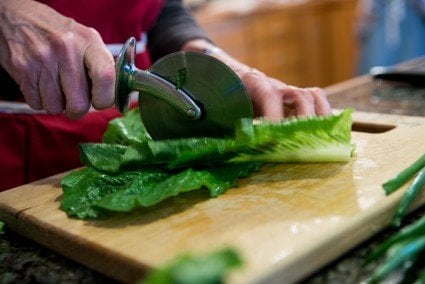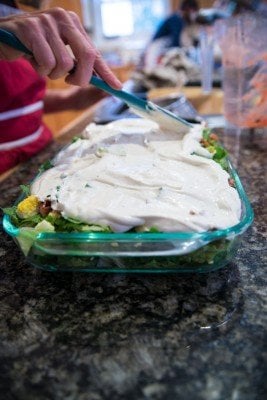 Teri's Favorite Salad
1 head iceberg lettuce
1 head romaine lettuce
1/2 to 3/4 12 ounce package frozen baby peas (uncooked)
6 hard boiled eggs
1 lb. bacon (crisp/crumbled)
1 small bunch green onions
2 small packages Hidden Valley Ranch Dressing*
2 cups sour cream
1 1/2 cups mayonnaise
*We like to buy Hidden Valley Ranch Dressing Mix in a container at SAMS or Costco. You'll still use the sour cream and mayonnaise, but it's much more cost effective to buy a container of the dry mix instead of packets.
Ahead of time: Cook bacon and crumble into small pieces. Hard boil eggs and then peel and cut.
Wash both kinds of lettuce and chop into edible sizes. Put in two bowls. Wash green onions and chop into small pieces. Put bacon, eggs, green onions, and peas in separate bowls next to the lettuce.
Mix Hidden Valley Dressing, sour cream, and mayonnaise together and set aside.
Grab a 9×13 size pan or tupperware container. You're going to make a total of 2 layers, with the dressing on the very top.
Spread the lettuce evenly across the bottom. Sprinkle one half peas, eggs, bacon, and green onions evenly on top of lettuce. Then, layer the last half of lettuce, and again follow up with the remaining peas, eggs, bacon, and green onions. Next, carefully spread the dressing over the top. It will be thick. Refrigerate preferably for a day before serving. Enjoy!
"It is a good thing to give thanks unto the LORD,
and to sing praises unto thy name, O most High."
Psalm 91:1