So we're on to the ceremony. Excitement continued to run high. Weddings are such a joyous occasion!
Jesse is practicing above. He played the bride's processional.
Anna practicing her special "How Beautiful."

Joseph greeted guests, which was a special touch. People love interacting with the groom!
And it begins! Joseph seats Mom.
Joshua was such a cute ringbearer!
And the trio of flower girls–wow! So precious.
Joseph and Elissa chose sand as their symbol instead of a unity candle. I love the sand idea: it shows how the two lives become so intertwined they're inseparable! You can't sort the different colored sand out once it's mixed.

Joseph invited the guests to another wedding–the marriage supper of the Lamb (Revelation 19:9).
Joseph and Elissa sang "Channels Only." It was such a sweet thing to see them sing.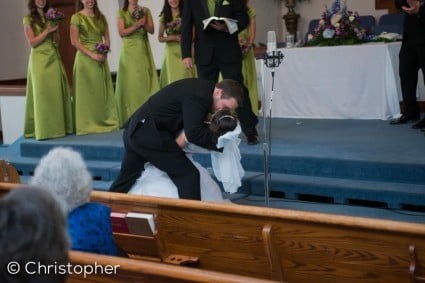 The first kiss!
Introducing Mr. and Mrs. Joseph Maxwell!

After the recessional, we played a slideshow for the guests of Joseph and Elissa's lives. People loved it! Anna spent many hours compiling the pictures. Great job, Anna!
Carter played music while they dismissed guests by row. Thanks, Carter!
"… and a threefold cord is not quickly broken."
Ecclesiastes 12:9