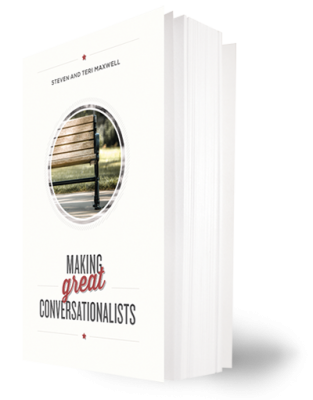 Okay, y'all, I'm excited. I can't wait to start shipping my parents' new book to homes around the world. Of course I'm also excited about Spring Days. 😉 But, right now, this post has to do with Making Great Conversationalists.
Because of the tremendous response, we decided to do something that we have never done before. We will be giving away Making Great Conversationalists to two families.
Two  winners will be selected by a drawing from the approved comments on Wednesday, July 31st. Participation is easy. All you have to do is comment under this post by Wednesday, July 31st at noon CDT.
In your comment, write a sentence or two about why you are excited about Making Great Conversationalists or why you think your family will benefit from it.  
So, onto the fine print. This will be on the honor system, so we leave it to you.
One entry per family (Simply put, please don't enter more than once).
We reserve the right not to post any comment or entry.
If you have already pre-ordered the book, don't worry. Enter anyway. If you are a winner, we will refund your money.
Post away. I'm excited to see what you all have to share.
Have a blessed Sunday!
—- Sunday afternoon update. Wow, y'all. I love your entries so far. You're doing an awesome job, and it excites me to read why you all want this book. Even more so because you're hitting the nail on the head ;). Keep 'em coming! Sarah —-
Sarah
"But I have trusted in thy mercy;
my heart shall rejoice in thy salvation."
Psalms 13:5